Pete and I do most of our planning, brainstorming, and dreaming while driving in the car. And we often start discussions with "What if we..." One afternoon, we were talking about the photobooth business that our good friend
Lyra
recently started with some of her friends in Ho Chi Minh.
"What if we set up our own photobooth business?"
The photobooth industry is just starting out in Vietnam, that in fact
Photo Oi!
may well be one of the pioneers over there. Here in the Philippines, however, photobooths are a dime a dozen and the competition is really tough.
"But...What if we market it with your brand?"
"We have a barely-used 21-inch LED monitor that we can use."
"And we can use your extra cameras."
"If we do this, I want the quality of the photos to be really good..."
"And the set-up to look really cool..."
We thought that was the end of that. But things just have a way of falling into place because a few days later, I got a message on Facebook from a young friend who said she had this plan in her head to put up a photobooth business and if I could maybe help her out by referring her to my clients. To make the long story short, we decided to team up with that friend (whose name is Karla, by the way) instead and put up the business together. About a week after I got Karla's first message, we had our first business meeting at Starbucks, and everything else went smoothly from there...NOT!
You see, we really were serious when we said we wanted the photo quality to be top-notch and the set-up to be great and cool-looking. And it wasn't so easy to achieve all of that. We knew we wanted to have studio-quality lighting. And we also wanted to use purely green screen backgrounds. So, for weeks we tested and tweaked the lighting, the set-up, the over-all design. We didn't stop until we liked the kind of photos that we were getting...
Finally, about a week ago, we officially launched our photobooth when we had our very first
event
.:) So everyone, please allow me to introduce our new baby:
PiKtoGraphy Mobile Studio
! And just to start things off, we're offering 20% discount to our first 10 bookings (valid for 2012 events only), and a few slots have already been taken!;) So, if you're interested or if you know anyone who is, you may email us (Karla will be handling the inquiries) at
pkg.mobilestudio @ gmail.com
.
And just to make this post a wee bit more interesting, here are the shots we took of ourselves during our first event.;)
Here's our young, energetic, and pretty business partner Karla.;)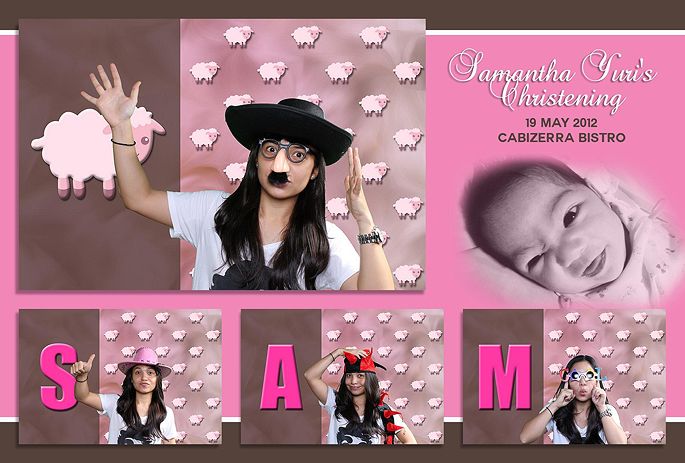 And here we are.:P