I know a lot of smart people--I mean really really smart people. Geniuses. I've been surrounded by them ever since I made the mistake of thinking I was one of them when I was twelve. :P And this lady is one of the SMARTEST persons that I have ever known. Seriously. But then, she's probably that to most of her friends and families as well. For me though, Iris is also one of my best friends from high school. And my fondest memories with her don't include Physics or Calculus. No, when we were together, we talked about stuff that normal teenagers talk about. We shared our secrets crushes, talked about our first heartbreaks...and we talked about makeup and clothes. :D But one thing that we both really love is food. In fact, one memory that I have with her that really stands out is of that day about 14 years ago at the UP CASAA. Iris gave me my very first taste of
sisig,
and my life was changed forever. Hehehe.
Iris is now living in the States with her husband Eric and lovely daughter Erin, but she came home for a month-long vacation recently. I feel like a horrible friend because between the bad weather and our crazy schedules, we were only able to meet up once during her entire stay. I was supposed to take photos of Iris and Erin a couple of weeks ago, but we decided to cancel at the last minute because of the rains. Instead, Iris and I met up for late lunch/meryenda at the Chocolate Kiss in UP. She showed up in a t-shirt, jeans, and flipflops. And she was stunning. (I was glad I decided to bring my camera after all.:D) This time, we talked about "grown-up" things like marriage, and kids, and buying houses, and our careers. And it's a great feeling realizing how far we've come. We still both love food though. And before we parted that night, Iris introduced me to Samurai balls which is sold at one of the stalls in SM North. I probably have to get me some of that the next time I go there.:)
Here are some of the photos I shot of Iris.
My first few shots don't usually make it to the blog but these two show how "weird" Iris felt being in front of my camera. She has never seen me at work before so at first she kept laughing whenever I gave her directions.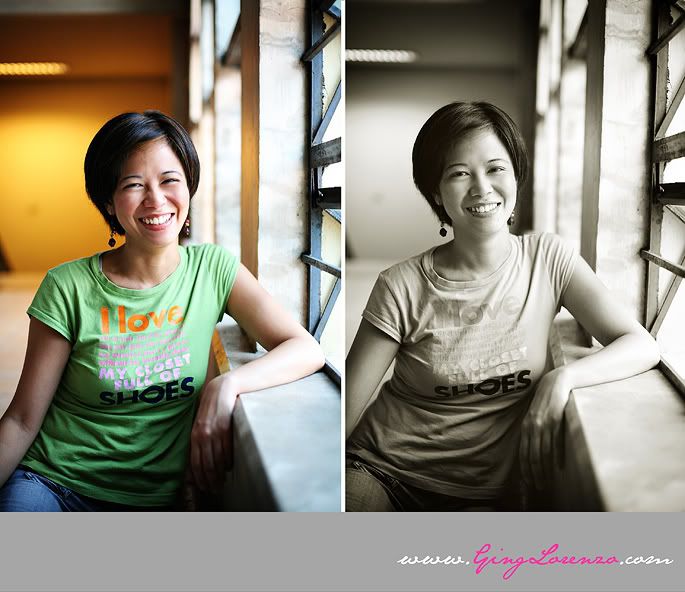 It had stopped raining, so we looked for some outdoor spots.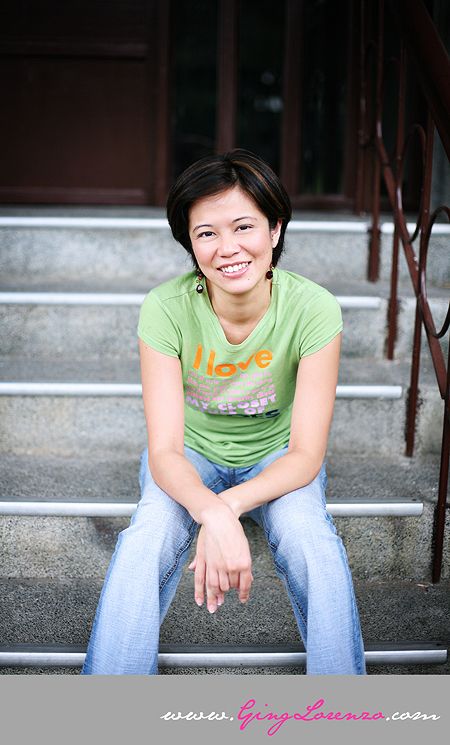 She was getting more comfortable in front of my camera at this point.:)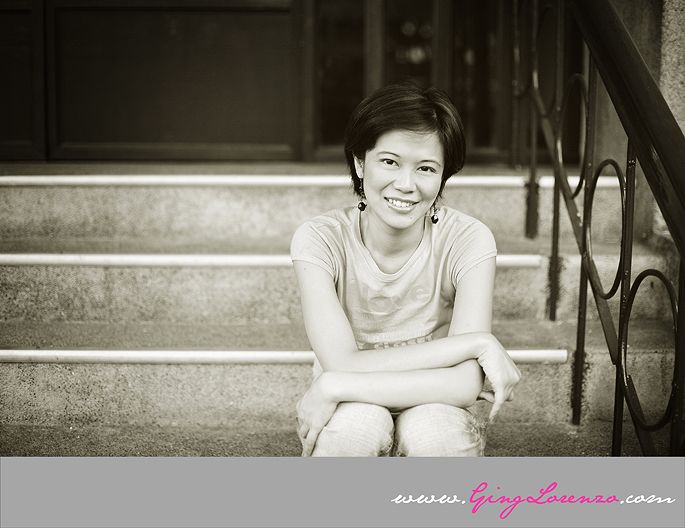 Can you believe how skinny she is?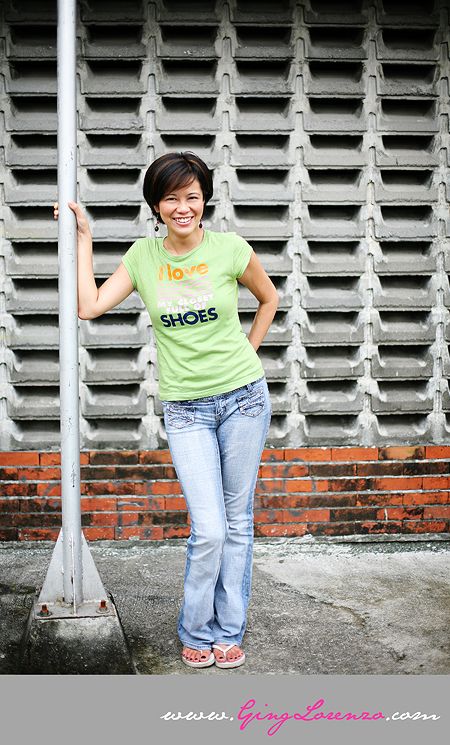 I love these next two. They look like they could be photos for an ad.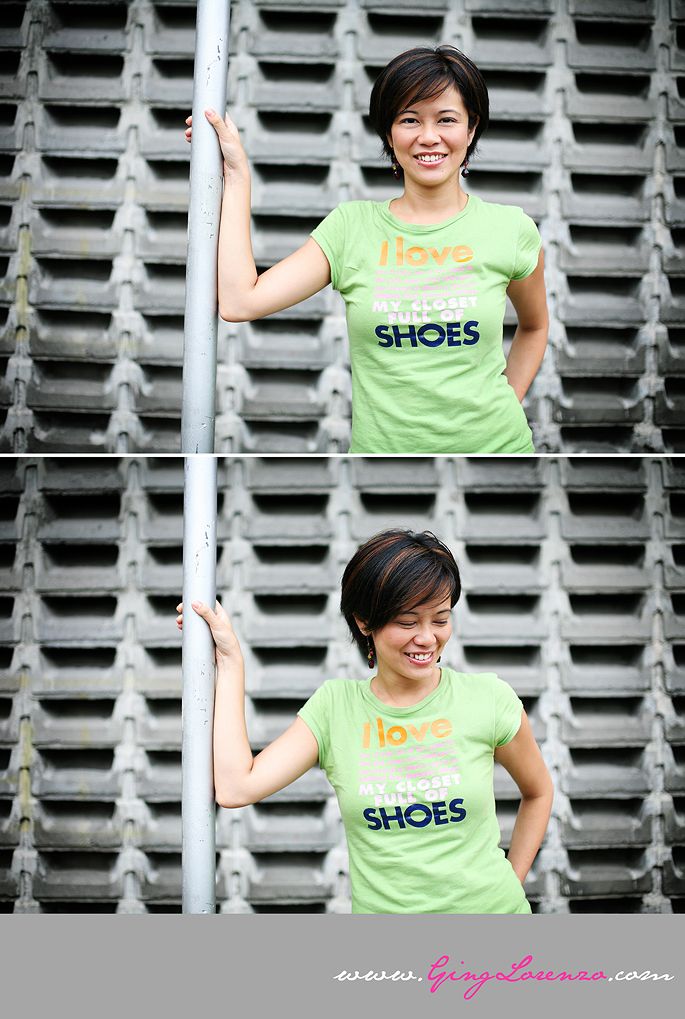 This was taken at the same spot where we took my portraits that appear on my
website
.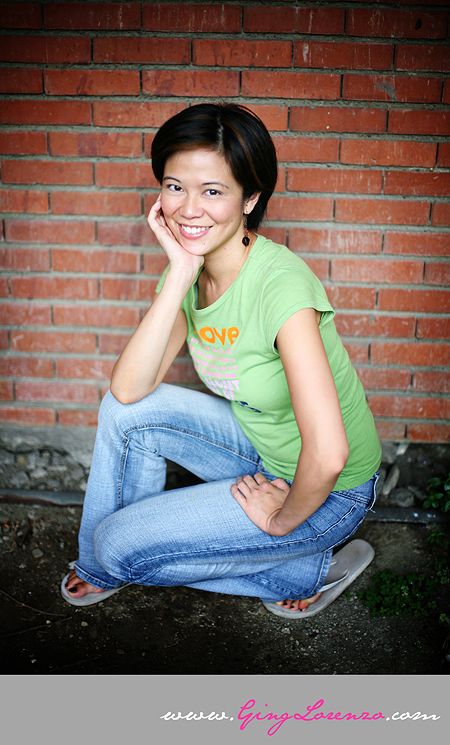 My favorite shot of Iris. She was wearing very light makeup. She still looks gorgeous though, doesn't she?:)