There are simply no words to describe how excited I am to finally be able to announce the launch of my website! As I write this, my friend Lyra is doing a countdown to midnight over Gtalk. We can't believe the day is finally here because the truth is, the long complicated story of my website's becoming started over a year ago. I know nothing about doing websites but with a lot of patience (from myself and other people) and a lot of help, I couldn't be more delighted with how mine turned out.
I have to take a minute to thank the following people for helping make this a possibility (because it really wouldn't have been possible without them!):
1. Lyra, for helping me figure out how to do the website. She was the one who gave me my weekly "homework", and really pushed me to do every task that I needed to do to get the job done. She also helped me in the actual customization of the website and gave me helpful feedback on my ideas.
2.
EJ Litiatco
, for making me look and feel good for my
pictorial
. You can check out some of my photos (taken by my talented sister Pie) in the ABOUT section of the website.;)
3. Pie, for taking great photos of me!:D And for helping me with everything! I know I couldn't have had the time to finish the website without her. In fact, I wouldn't have the time to do a lot of things without her!
4. Of course, my husband Pete, for EVERYTHING. An entire entry wouldn't be enough to describe all the things that he has done to support me in my business. He has been the great force behind me all this time. He's always been my best critique because he gives honest feedback on my work, and he was no different during the making of the website. Oh, and he couldn't sleep with the lights on but he had to put up with them the past few weeks (including tonight)as I worked late into the night.:D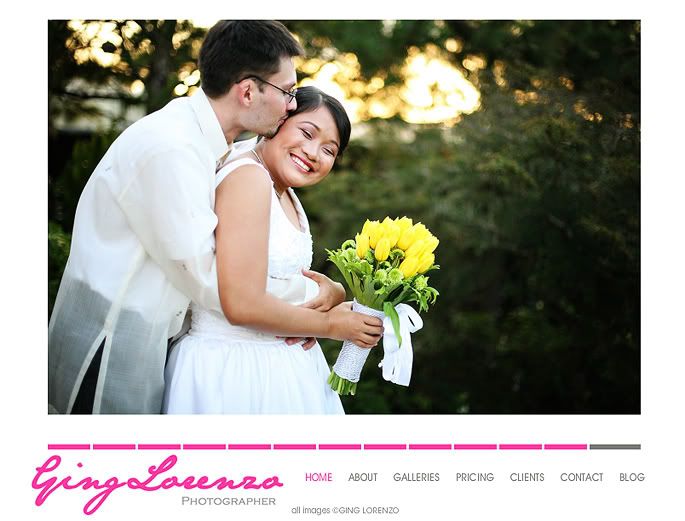 I will still be doing some updates on the galleries and in some of the sections in the coming weeks, but I hope you guys like it as much as I do. Please go to
www.ginglorenzo.com
and let me know what you think.:)
Thanks!:)