In celebration of Paco's 1st birthday, I would like to share his portrait sessions today. Yes, we had to do two sessions for him because it's not easy doing a shoot when you have no one else to help you out. It was just me and Pete, so we had to prepare the props and the outfits ourselves. And since I had to take the photos, Pete was left to make sure Paco didn't eat the grass or fall off the table during the sessions. He also had to dance around and make silly faces behind me to make Paco smile. Hehehe. Oh, and we had to clean up and bathe the baby by ourselves after each of the sessions. So, yeah. It's not easy being the mum and the photographer at the same time.
Anyway, fortunately, the weather was beautiful during the two afternoons when we did the pictorial. And lucky for us, we live in an area where there are gorgeous spots that we could use. I love how the photos turned out. Here are just some of my favorites...
We started a bit late. These first few shots were taken just before 5PM. However, the weather was great that day, so we still had lovely afternoon sunlight. Also, I think it's because the area we live in is relatively higher (hence, minimal obstructions) so we get beautiful sunsets a bit later than those in the city.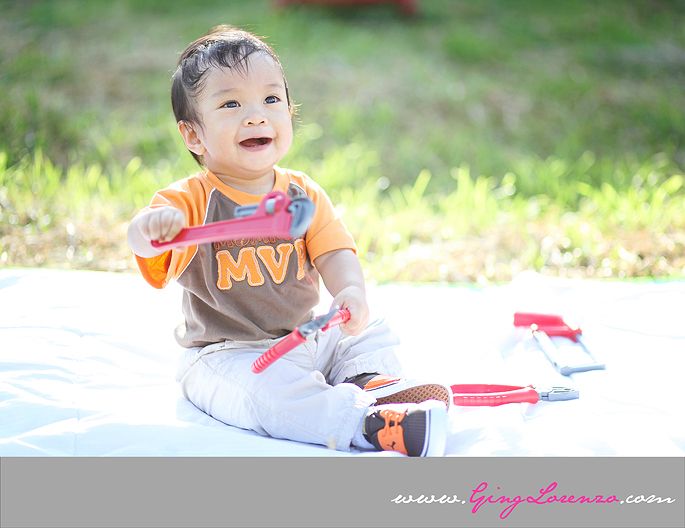 Paco's shirt (it's actually a onesie) says "Mommy's MVP". And Pete bought these toy tools as props.
Paco bit his finger for a split second while he was laughing at his Daddy (I don't know what Pete was doing behind me), and the moment I took this photo, I knew it would end up on the blog.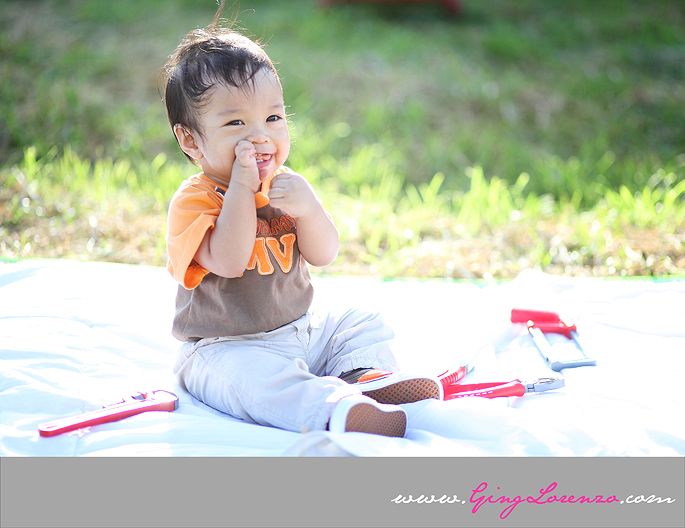 In case you're wondering why he's holding the tools, it's because his birthday party (this Sunday) has a "construction" theme. Some photos from these portrait sessions will be used for his party.:)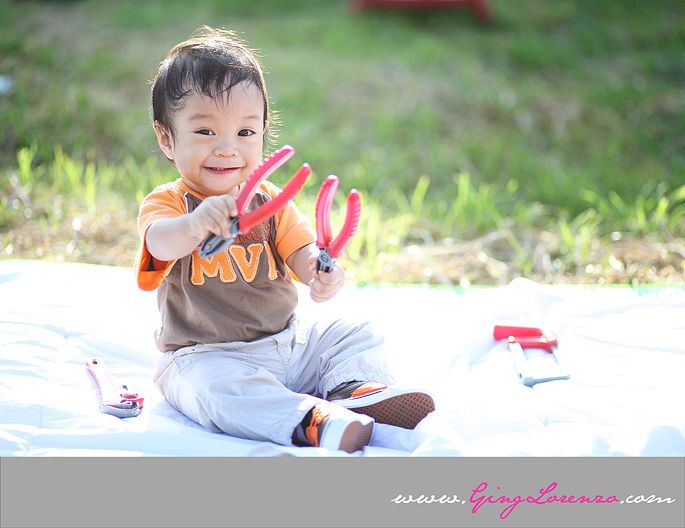 I love my Paco's smile.:)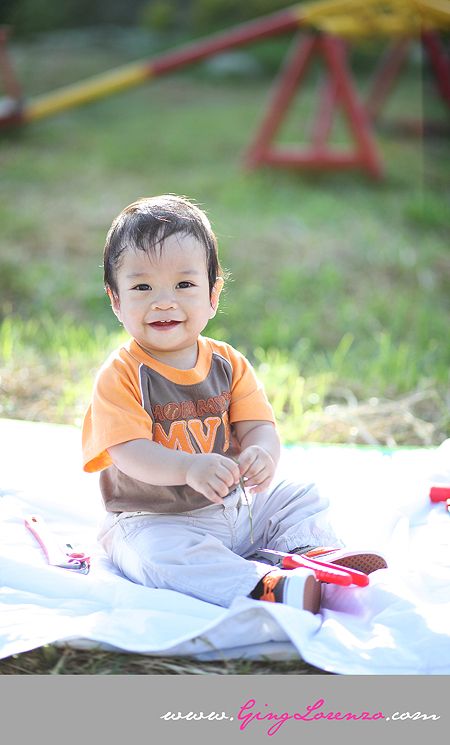 Oh yeah, Paco is also wearing the Puma shoes that my client, Sheryl (
Sofia's
mom) gave Paco for Christmas last year! Thanks, Mommy She!:)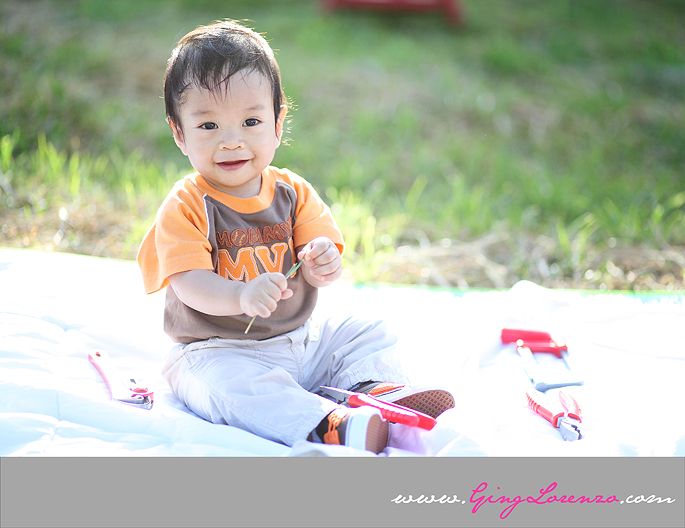 Next up, we used this hardhat and a heavy equipment model as props, still in keeping with his party's "construction" theme.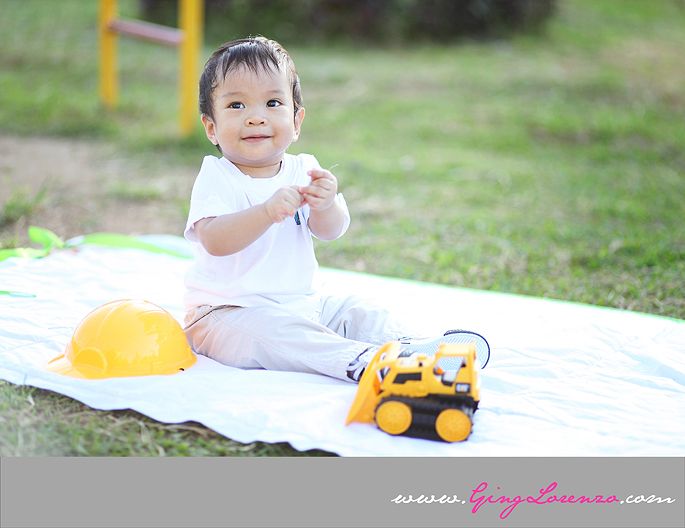 Since Paco insisted on crawling into the grass, we decided to removed the blanket and let him play on the ground instead.
Based on my experience, all one-year-old kids love picking on the grass.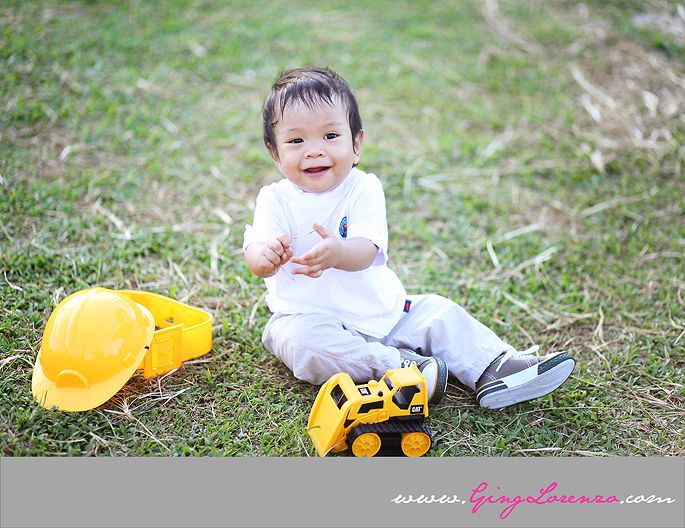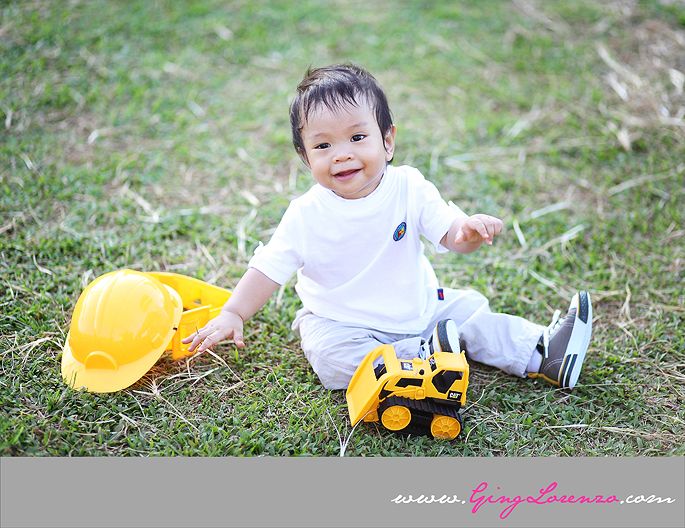 We were about to wrap up the shoot, when we realized we didn't have a single shot of him wearing the hardhat yet. But that was because he hated wearing it!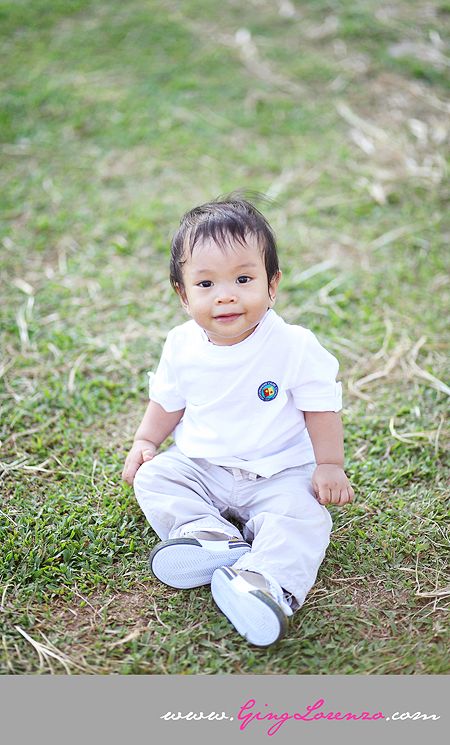 It took several tries, but we were finally able to snap a single decent photo of him wearing it.;)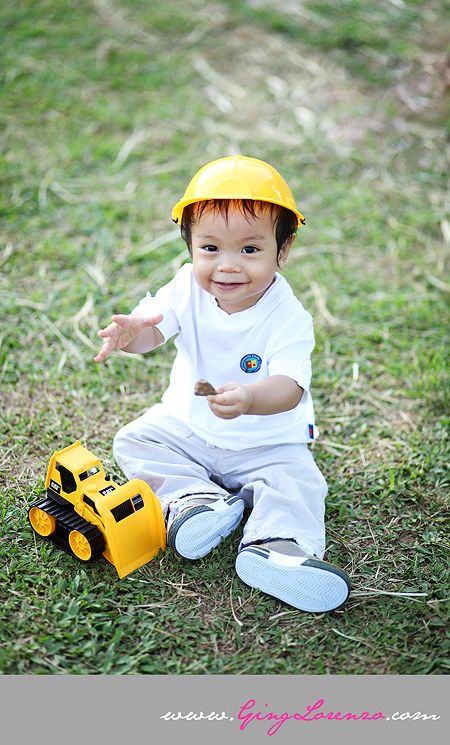 It didn't stay on his head for long though.:D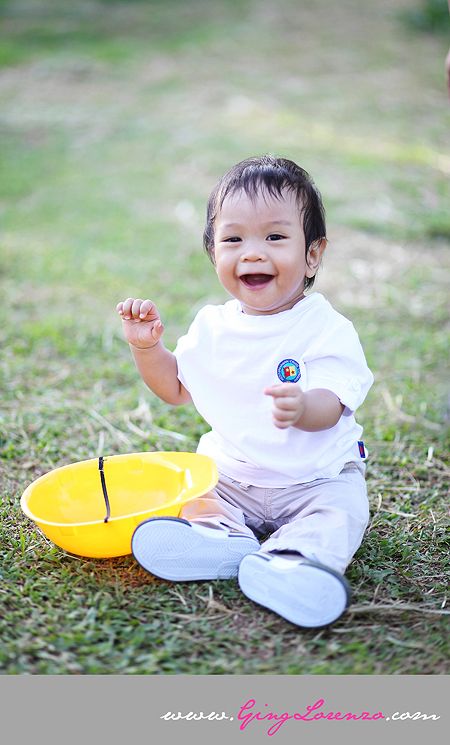 And now, for the cake smash session that we did the day after...
I always knew I wanted to do a cake smash session with Paco. And I had the perfect place to do it. We have this viewing deck right in the middle of the village, and ever since we moved here 3 years ago, I have always wanted to do a portrait session there. I knew it would be perfect for the cake smash.
Since it was just me, Pete, and Paco with no one else to help us out, it wasn't easy preparing for this session. At all. And it was even more difficult cleaning up after.:P We had fun nonetheless, and I was very happy with the photos that we got.:)
We didn't have time to order a custom cake anymore so we just bought a mango cake from Red Ribbon. It worked perfectly though! Here are just a couple of test shots I took before the session, but I love them so much so I'm posting them here as well.;)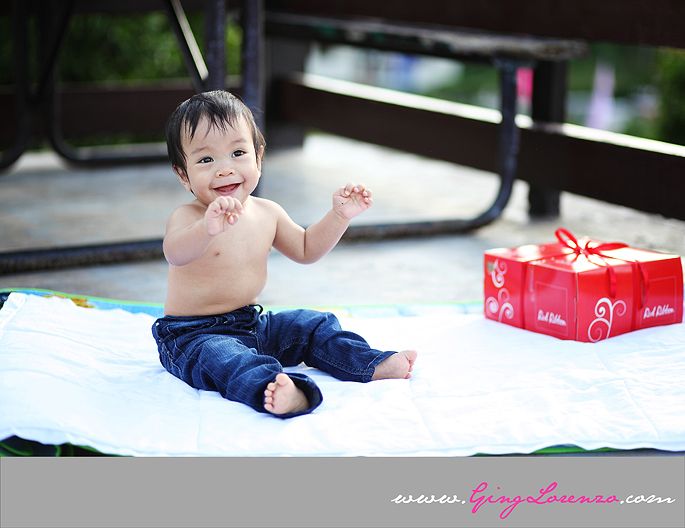 Here's Paco looking all cute and clean. Hehehe.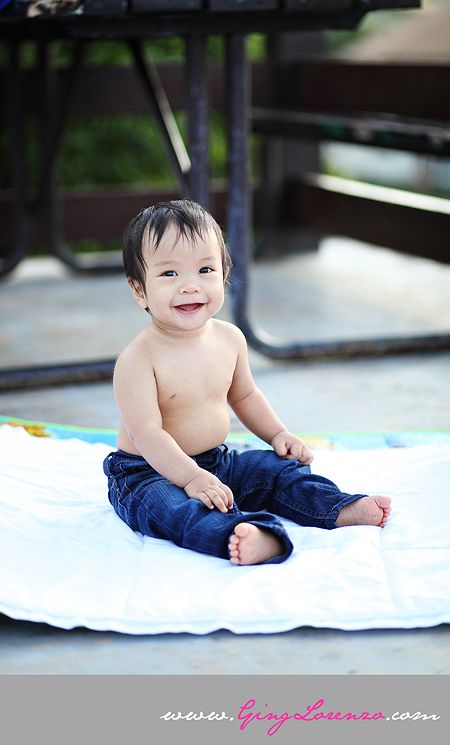 When everything was set, we took the cake out and put it in front of him. At first he didn't know what do to with it...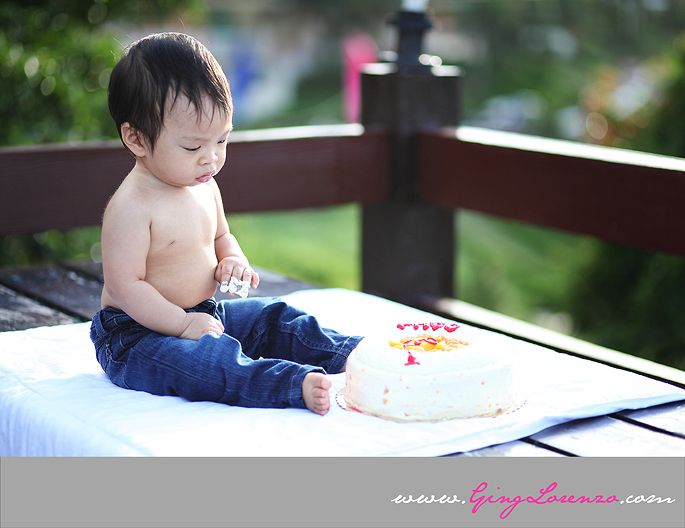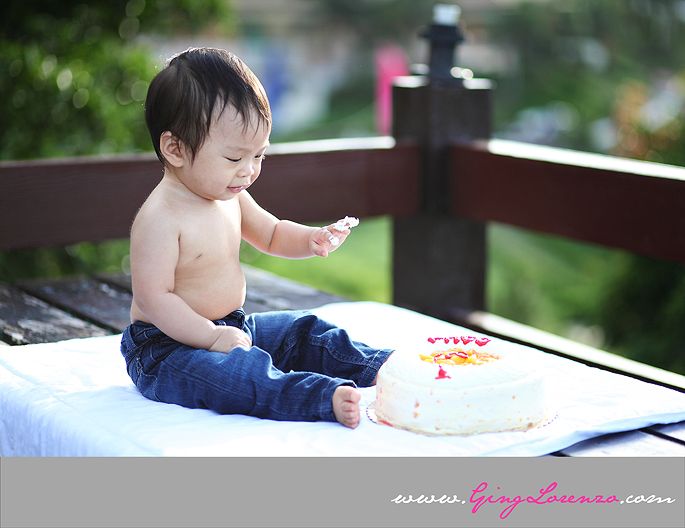 A little pick here and a little touch there...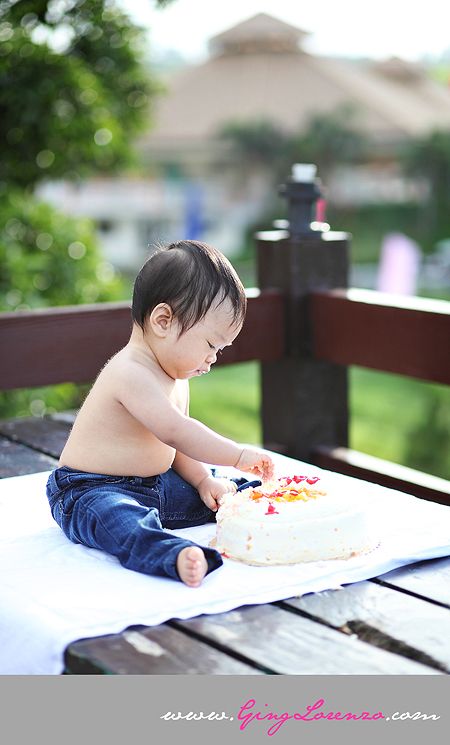 It took only a few minutes for him to figure out what he could do with the cake.
It was a big mess! I loved it!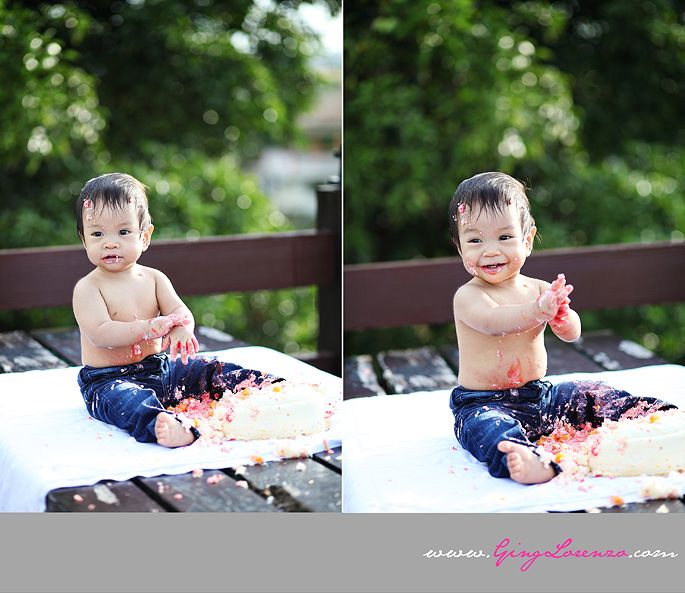 LOVE this shot! Good job, Paco!;)