Speaking of weddings, I have talked about her here several times already, but I could never say enough good things about
EJ Litiatco
. I have worked with other great makeup artists as well, but I have EXPERIENCED EJ's magic first hand. I first met her when I was looking for a makeup artist for my own wedding more than two years ago. Since then, I have had the chance to work with her on a few other occasions, including
my sister's wedding
and my
30th birthday party
last year. I am also looking forward to working with her again very soon. *fingers crossed* :D
A couple of months ago, she asked me if I could help her with a bridal portfolio she's working on for some wedding fairs that she was joining. I gladly said yes. This was essentially a fashion shoot, which lies just outside my comfort zone, so I was naturally a bit nervous. However, as soon as I met our model, I knew it was going to be a pretty smooth photoshoot.
Valerie is a professional model. She has appeared in tons of magazines and has done several print and TV ads. However, she is very down-to-earth and very nice as a person. She was also very easy to work with. I have no qualms in saying that I am but an amateur in the world of fashion photography, but Valerie still respected my insights and took directions easily. Also, you can never take a bad photo with someone as beautiful as Valerie for a model.:)
And now for the pictures...
As a wedding makeup artist, EJ knows that not all brides are the same. She considers a lot of things when she does bridal makeup, and this includes the brides personality, the theme of the wedding, etc. She has come up with four major categories for bridal makeup: NATURAL, CLASSIC, ROMANTIC, and DRAMATIC. For this pictorial, we started with a few headshots for every bridal look, and then we roamed around the venue (Valerie's home) to take a few more shots in ambient lighting.
Hair styling by the talented Allan Arnecilla.:)
Here are the headshots (I just used a small softbox and a reflector):
NATURAL
CLASSIC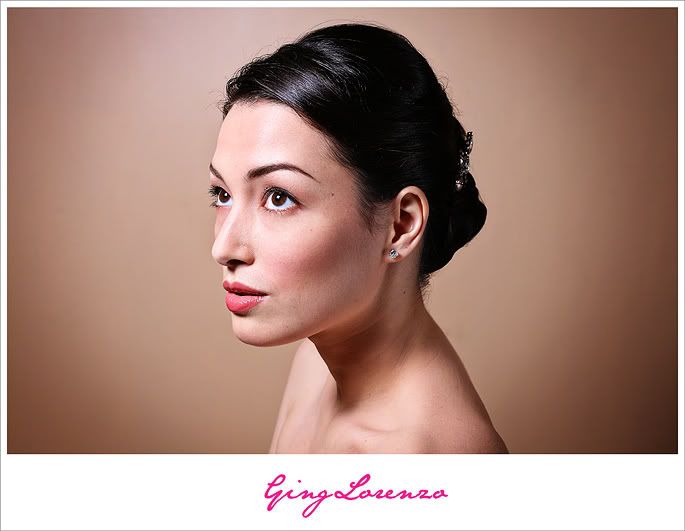 ROMANTIC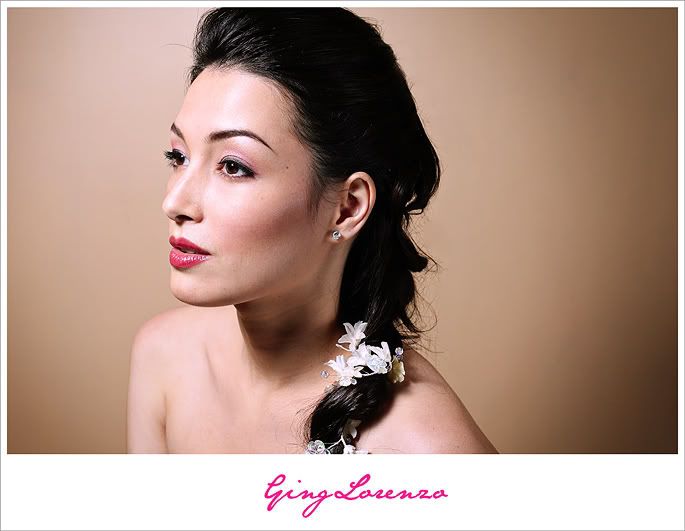 DRAMATIC
This was also done using the light set-up. We wanted to do a magazine cover type of photo. There are three people holding those flowers up.:D
And here are the bridal looks in pure ambient light:
NATURAL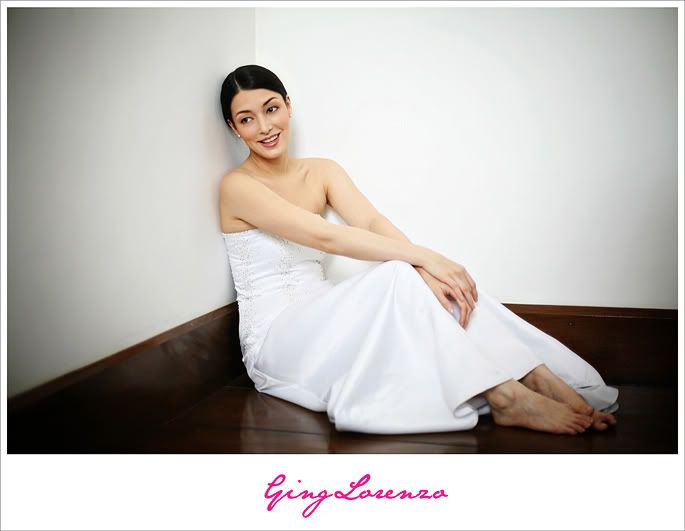 CLASSIC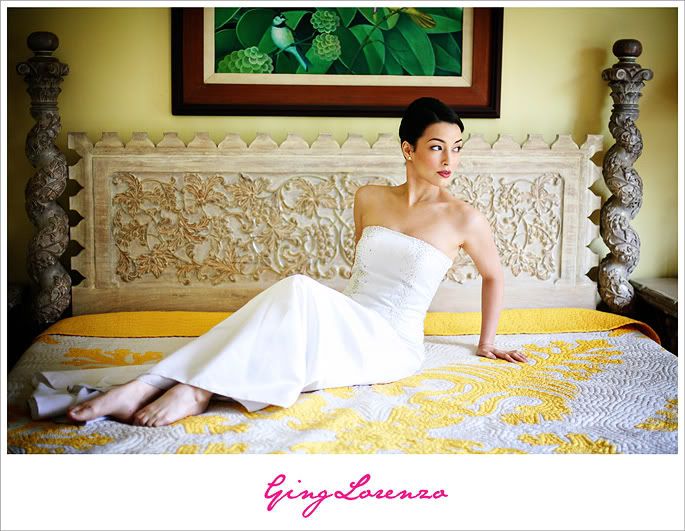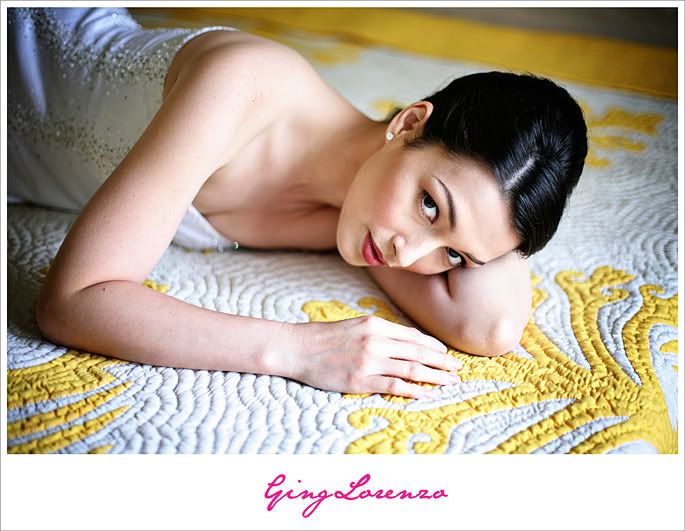 This was one of my favorite shots.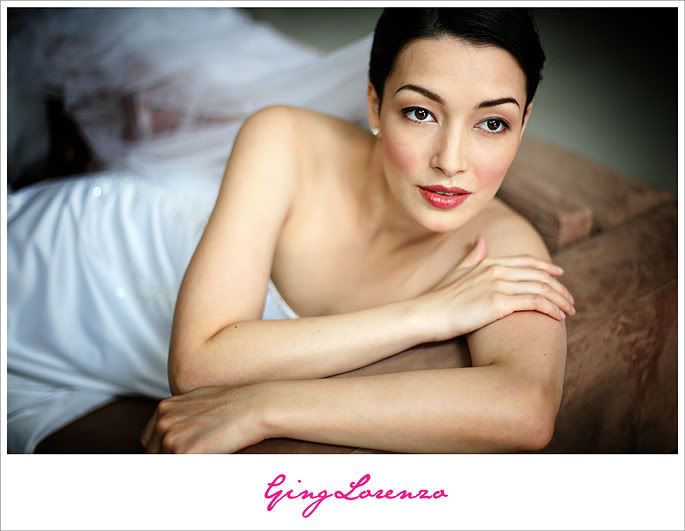 ROMANTIC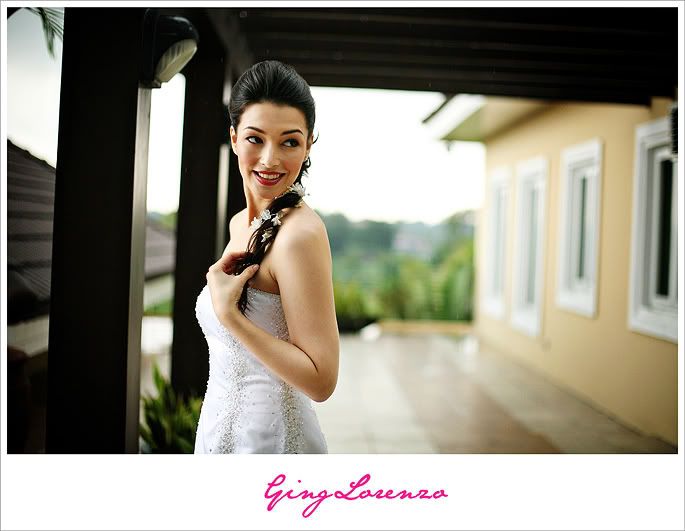 DRAMATIC
I think she looks a bit like Angelina Jolie here.:)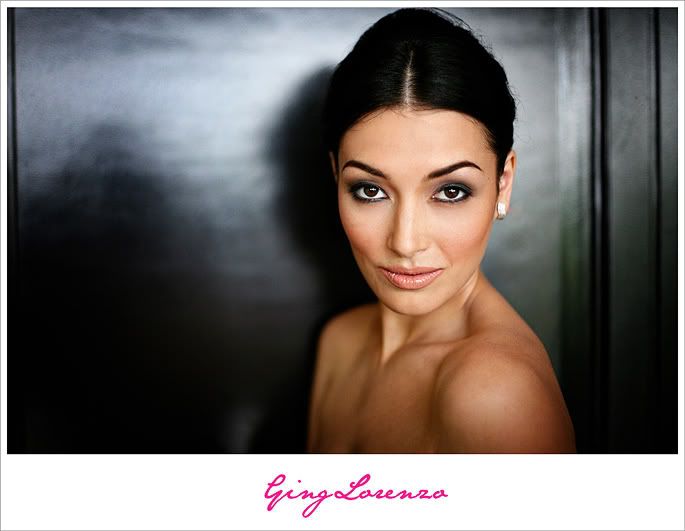 It had been raining that morning so we did the shoot mostly inside. By early afternoon though, the rain had stopped so we went out to take a few outdoor shots.