In case you missed it, I am reposting the announcement about the
boudoir photo marathon
that I am doing with the talented
EJ Litiatco
at the end of the month. Yes, we still have some slots open, so if you are interested or know someone who might be, shoot us an email to reserve a slot.:)
We received a number inquiries the past week with various questions about the shoot. Therefore, I am posting some frequently asked questions and other info relevant to this project.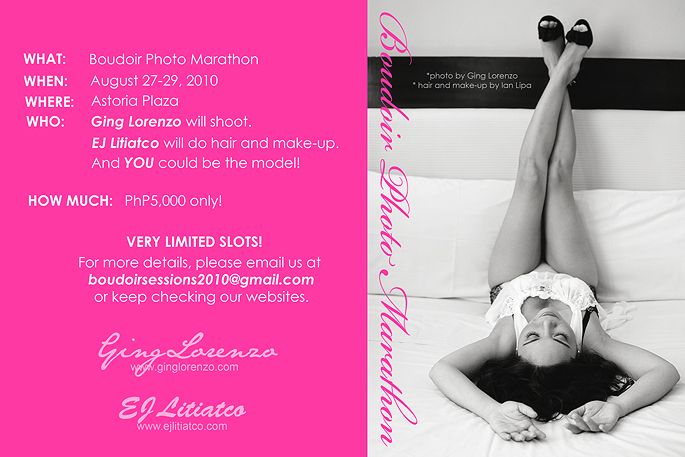 1. What is this about and what do I get if I decide to join?
We, Ging Lorenzo and Ej Litiatco, have decided to work together on another excited project. We're both passionate in making people look and feel good about themselves, and this time we wanted to give ladies an opportunity to bring out their inner goddesses in a full boudoir photo marathon.
Here's what you'll get:
a. A complete hair and make-up session with EJ Litiatco
b. A 1-hour boudoir session with Ging Lorenzo
c. A private online gallery of 25 edited images (photographer's choice) from the session for about a month from posting
d. A CD of the high-resolution files of the 25 edited photos
e. 1 piece 8x10 canvas frame (photo to be chosen by client from among the edited photos) or 5 pieces 8x10 prints
f. 10 pieces 4R prints (photos to be chosen by client from among the edited photos)
2. I'm interested to book a session. How do I sign up?
To sign up for the shoot, you can just send an email to boudoirsessions2010@gmail.com to tell me that you are interested. Then you will have to make a PhP2500 (50%) deposit to secure your slot. We are requiring this reservation fee because there are only a limited number of slots and we want to make sure that none of them goes to waste. To be fair to everyone, you will only be considered booked when you have paid the reservation fee. We can hold on to your slot for 2 days after you express your intention to sign up (to give you time to make the deposit) before we make it available to others.
Reservation fees will be non-refundable, but if you cancel your slot at least week before the start of the sessions, your reservation fee will be 100% transferable to another service from either of us (Ging Lorenzo or EJ Litiatco) within 6 months after the boudoir marathon. If you back out at least 3 days before the sessions, 50% of the deposit will be transferable for another service. But if you cancel your slot 2 days or less before the start of the boudoir marathon, your reservation fee will be non-refundable and non-transferable.
3. How do I pay the reservation fee?

Once you've decided to book your slot, we will give you account details and you may deposit the reservation fee (PhP2,500) through the bank.
On the day of the shoot, you will be asked to pay the balance of PhP2,500.
4. Can my husband and/or kids join me in the pictorial?

Please consider that this is not meant to be a family portrait session. Boudoir sessions focus on making a lady feel and look sexy. Your pictorial will be an intimate session with just you, the photographer, and a female assistant.
In fact, we will be limiting entry to the room to the client and one female companion. No men will be allowed in the hotel room. The whole session (including make-up) will last for only about 2 hours, so your hubbies (and other companions) can just pick you after you're done. J
5. What do I have to wear for the photo shoot?

As you know, boudoir sessions usually involve sexy lingerie and nighties, so you can start shopping for these. J Once you're booked, feel free to email us for ideas about your outfit. A maximum of three outfit changes will be just right for the 1-hour session.
6. Do I get to choose what time my session will be?
If you book early enough, yes. The sessions will start in the afternoon of August 27 (Friday) up until the morning of August 29 (Sunday). Each pictorial will last for about an hour, and we are allotting about an hour for hair and make-up as well. All in all, there will only be 12 sessions. Once you have made the deposit, you can check back with us so we can tell you what time slots are still available.
7. How early do we need to be at the venue?

Please be at the venue on time (i.e. If you booked the 7:30AM time slot, you have to be at the venue on or before 7:30AM). This will give EJ enough time to do your hair and make-up and for you to be comfortable with the place (and with us) before the photo shoot. If you show up 30 minutes late (at 8AM for the 7:30AM-9:30AM slot, for example), EJ will only have 30 minutes to do your hair and make-up before she has to start with the next client. If you show up more than 30 minutes late, (i.e. If you show up at 8:15AM for the 7:30-9:30AM slot), you will have no make-up from EJ!
If you don't show up within the hour of your session, you will be considered a no-show and your reservation fee will be forfeited.
8. After the pictorial, how long before I see the pictures?

The photographer's choice shots will be uploaded in private online galleries around 2 weeks after the session. Each client will have her own password-protected online gallery where she will be choosing the shots for the 8x10 canvas frame and/or the prints. Printing and framing will take about 1.5weeks. After which the prints, frame, and CD of the high-resolution files will be ready for pick-up at EJ Litiatco's shop.
9. I have a question that is not included in this FAQ list. How do I contact you?

Please shoot us an email at boudoirsessions2010@gmail.com. We hope to hear from you soon!:)